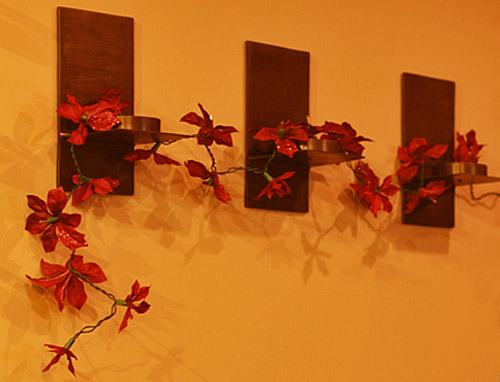 This is such a fun and EASY craft to do. You pretty much have everything you will need for this project right at home. I love string lights of all kinds. They create such a magical feeling in a garden, home or patio. I'm all about ambiance and I believe that we all love to somehow feel enchanted sometimes. Lighting plays a big role in this. Ever walk into a room with bright, spotlight-like lighting and feel comfortable? I bet not. We all seem to relax to softer lighting and dimmer lights. Candles are also an addiction of mine for the very same reason. I started making my own string lights for holidays and theme parties to cut down the prices I would normally pay for them, especially the pretty and unique ones. Here's how.
Things you will need:
Christmas indoor or outdoor lights (depends where you will be hanging them)
I used mini string lights
Silk flowers of your choice
Scissor
Floral tape (optional)
Hot glue gun (optional)
It is better to use LED lights since they use 90 percent less energy and give off very little heat. If you are hanging these in a garden, use outdoor lights with green wires as opposed to white so that it blends in with the greenery. I used a bunch of poinsettia which cost me only $2.49 from the craft store.
Remove base, stems, and center of the flowers.
Try to use flowers that have more than one layer and different sizes also. This flower below has 3 layers and all three are 3 different sizes. Yay, this meant that one flower covered 3 bulbs-Make sure you have enough for the set of lights that you will be using.
Grab your string lights and start pulling the bulbs off one by one as you attach the flowers. Not all will have to be removed.
Try to fit the flower over the BASE of the bulb. If the hole is not big enough, cut it little by little until it fits snugly up to the rim of the base. This was snug but I did not cut the hole bigger, I pulled it until it fit. Make sure fabric the does not touch the copper wires.
If the hole was cut bigger, I wouldn't have had such a perfect fit at the rim.
If it does not light up when you plug it in, just make sure its fitted in tightly. I suggest after each flower, test that they light up. Below, I used the smallest petal for the first bulb.
This is the largest petal of the 3 and it had plastic around it. I had to cut just a tiny 1/8 of an inch opposite of each other. I didn't remove the bulb for this one. I just slid it over the entire bulb and base.
Use green floral tape to secure the flower to the string wires if you had cut the hole to big (optional). I didn't have to do this since the flowers stayed on fine. Keep in mind that you can also layer all 3 petals over one bulb to keep it as a poinsettia flower.
Continue with the rest and Voila!
Tip: Use the different sizes of petals on every other bulb to add dimension. Enjoy.
Pin It